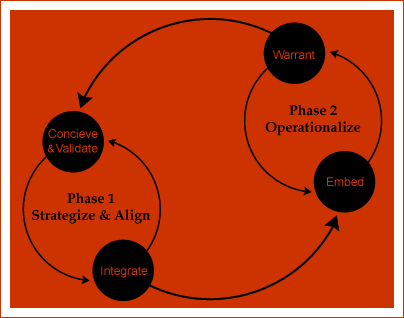 Conceive & Validate
As a first step, we need to understand the scope of the change — or transformation — sought by the client company. The best projects have a significant "step function" in measurable performance expected; we meet and work with the executive team responsible for delivering this performance improvement and in a workshop setting put them through their paces to test their understanding of, alignment to, and personal belief in, the desired improvements. The current operating performance is documented as the "baseline" with which to gauge the overall success of the project.
Integrate
This element focuses on ensuring maximum alignment of the initiative with the executive team and other key stakeholders. Typically this is achieved through front-end workshop(s); executive engagement usually involves evolving some aspects of the initial design in a drive to increase executive alignment.
Embed
With the executive team (and other critical stakeholders) now fully committed to the initiative – and hence more emotionally vested in the initiative's outcome, the engagement moves into the  implementation phase. This involves meeting with the executive team on a weekly basis to review the highlights & low-lights of the previous week (as it relates to the change project), report on the key metrics, and determine new weekly actions. As background activities, we will be working closely with specific functional and process owners to help them and their teams deliver on their agreements — this might involve group workshops or one-on-one coaching, as appropriate.
Warrant
This element is focused on "closing the loop" at the completion of the transformation project and providing a hard measure of the success of the engagement through comparing new business performance to the baseline measurement of the agreed priority metrics. This ensures that the organization will be able to measure the added value of the new/improved capability and provides insights in planning future projects for continuing business growth.